Neck Pain & Migraines Bothering You
Neck pain or stiffness can be a real problem, and can become bothersome and quite painful if left untreated over a long period of time. With neck pain, everyday activities can become a problem and potentially even dangerous with activities such as turning your neck to look around or into your mirrors while driving or even just moving your neck while reaching for something can be difficult. If neck pain is causing you issues, consider seeing a specialist at Move Well MD. Migraine Specialist Nyc
Located in Manhattan, the team at Move Well MD specialize in neck pain relief solutions that provide lasting relief and improved mobility to help you take back the reigns on your life. Make sure you don't suffer through neck pain any longer, as you deserve to feel better! Move well md have the best Pain Management Doctors in Nyc. M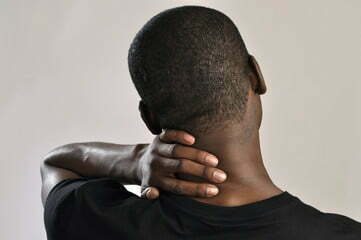 What TO Know Before You GO
Your neck is simultaneously delicate, strong and flexible.  It supports your head, which on average weighs about 15 pounds. That's a substantial task a small, thin set of bones and soft tissues. As a result, the neck is especially susceptible to injury. Among the common causes of  neck pain are: Neck Pain Treatment Nyc
Poor posture
Working at a computer for too long without changing position
Sleeping with your neck in an awkward position
Jerking the neck during exercise
Whiplash, usually sustained during a rear-end auto collision
The team at Move Well MD starts with a physical examination. As part of the exam, your range of motion is evaluated and your symptoms discussed. In some cases, X-rays may also be ordered. Neck Pain Treatment Nyc
Treatment plans at Move Well MD are always individualized and may include one or more of the following modalities.
Physical rehabilitation
Physical rehabilitation entails a specialized exercise program designed to strengthen muscles, improve your flexibility and range of motion, and prevent re-injury.
Trigger point therapy
A trigger point is a knot of muscle on your body that causes intense pain or a dull ache. You may have a trigger point on your back that causes pain to your neck. The pain can worsen and affect other body parts if left untreated. The therapy consists of injecting an anesthetic such as saline or corticosteroid into your trigger point to reduce the ache.
Acupuncture
Acupuncture can effectively be used to treat isolated pain and is a very safe treatment option for chronic neck pain.
Massage
When muscle knots are resulting in neck pain, massage can be employed to break up or loosen the affected area and allow for correct alignment and reduced ache and pain.
SPG Block
Move Well MD can reduce your frequent headaches with a novel approach called an SPG (Sphenopalatine Ganglion) Block. The SPG block is done using a patented applicator to ensure proper placement. The SPG block is located just deep to the nasal mucosa posterior to the middle nasal turbinate. The SPG can be blocked by diffusion of local anesthetic through the overlying mucosa. Sensory, sympathetic and parasympathetic fibers pass through or synapse in the SPG, making it a key structure in various types of painful headaches. Temporarily blocking function of the SPG can provide prompt, and sustained relief of painful headaches and migraines. It is theorized that performing an SPG block provides sustained relief by disrupting dysfunctional neuronal activity, allowing restoration of normal function. No Sedation is required for this procedure. 
At Move Well MD in Manhattan located in the downtown financial district of lower Manhattan, NY, NY 10038, we use an integrated system of care to relieve pain, improve range of motion and help you to move well again! We are just a few short path train stops away from Hoboken, NJ and Jersey City, NJ.
Best care I have ever received from a medical provider. Everyone here really cares and is clearly very knowledgeable. I saw another provider before who did not take the time to actually make a diagnosis - received one here on my first visit. Doctor is experienced and works with your comfort level. Highly recommend!
Now a regular patient of MoveWell, all the doctors and staff continue to provide exceptional and professional services for me. They are personable, kind, patient and supporting of my ongoing pain. Thank you once again!
Dr. Ben and the staff are the best I feel like Family every time i come to the office. My first visit to the office was almost 2 years ago because of a sever neck crank during sparring i couldn't look to my right for almost 2 weeks. So I tried Move Well for relief because it was in the area and thank goodness I did. After the first visit I already had almost full range and mobility of my neck.
I've been a regular patient at Move Well for over 6 years. Dr Ben has truly helped me stay in good physical shape well into my 40s. Any aches and pains are immediately alleviated as a result of my weekly visits. Ask about the acupuncture, it's been a great addition to my routine.
Dr. Ben and his staff are the best! Receptionist were very friendly and I did not wait at all for my appointment. The doctor spent alot of time with me and explained very well what he was going to do. That made me feel very comfortable. Highly recommend!
Move Well MD is a one stop shop for holistic chiropractic care. Dr. Ben is fantastic as well as all of the team members there. What's best about this office is that they offer multiple different pain remedies from adjustments, massage, acupuncture and injection therapy.
ASK Our Manhatten Neck Pain & Migraine Specialist
At Move Well MD, we highly encourage anyone with neck pain or migraine issues to reach out to our Manhattan neck pain & migraine specialist for expert help and guidance. Our specialists are trained professionals in their field and have extensive knowledge about neck pain and migraines. We understand that it can be a daunting experience when going through any kind of treatment, which is why our specialists are here to answer all of your questions and ensure that you are prepared before the sessions begin.  Migraine Specialist Nyc
We strive to provide top-notch treatments tailored specifically for each patient, taking into account individual needs, goals, and preferences. In addition, we strive towards educating our patients on how best to manage neck pain and migraines at home so they can maintain better health in the long run. With our expertise and knowledge on these issues, as well as comprehensive treatments available, we make sure that every patient who comes through our doors will leave feeling informed and empowered with the skills they need to take care of themselves. Migraine Specialist Nyc